2021 – E-Services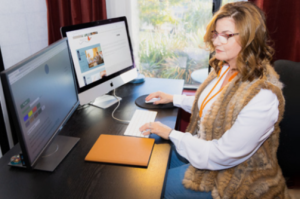 Senior Counsellor, Claudia Da Silva working from home delivering E-Service
I would like to share my experiences in the pandemic times from a therapist perspective: I had so many questions and curiosities about how to work with traumatised clients in the online setting.
How would the e-sessions affect my clientele?
How would the organization manage the client's attendance?
How the clients would be able to share their stories from home? Would they feel safe enough?
How could I feel as a e-therapist, treating my client behind my computer screen?
So many questions and doubts came to my mind…
After 6 months of mostly working from home, I can assure you that I am feeling confident as an online practitioner, and I learnt a lot from my clients and the online experience during this period, thanks in some respects to Covid!
To my surprise most Phoenix clients reported feeling very comfortable with online counselling and with the accompanying IT system Phoenix uses to facilitate this. It's a very secure platform, we have a high attendance and I'm able to use the Bilateral Stimulation App to provide online Eye Movement Desensitisation and Reprocessing (EMDR) sessions. EMDR is a very effective intervention for treating trauma and reducing symptoms.
Telehealth has been thrust into mainstream since the COVID-19 pandemic limited physical access for many essential healthcare services. This created much-needed change in the way services are delivered and with more people, from any location, having timely access to a broader range of healthcare services.
Bespoke telehealth software is one of the most widely used telehealth solutions in Australia, with over 90,000 practitioners using the software – but there are many other options for health providers. General video platforms like Teams and Zoom offer reliable and easy-to-use video solutions.
The move to telehealth in clinical practice has provided significant opportunities for consumers and for allied health professionals. It can significantly improve access for consumers who may otherwise have difficulties seeing their healthcare provider by:
reducing the wait time to see a health professional and avoiding the need to travel
maintaining continuity of care when clients are unable to visit their healthcare service/professional in person
However, for many clients and for many allied health professionals, telehealth is a new way of working. While the delivery of safe and effective clinical care is the focus of any consultation, there are aspects of online counselling that must be considered to protect clients and ensure care is still delivered in a safe and effective manner.
Providers need to make decisions about the technical aspects of telehealth. However, these decisions need to be considered in the context of clients' individual clinical and personal needs, and with the aim of delivering online consultations to the same standard as face-to-face consultations.
The expansion of funded support for telehealth to include allied health services during the COVID–19 health crisis resulted in a rapid transition to this mode of delivery for many providers. The purpose of these guidelines is to provide allied health professionals with practical advice on how to conduct online consultations and develop a better understanding of telehealth to:
improve their confidence and ability to provide quality online counselling via digital technology
implement the clinical, administrative, and technical elements required for this mode of delivery
ensure the safety and quality of their practice.
I am pleased that our clinical team at Phoenix were able to support the clients in the pandemic period and today still have an opportunity to offer an online service where that mode of service delivery is better able to meet the specific individual and unique needs of the client and their personal circumstances. The Phoenix E-Services offer may clients greater ease of access and greater flexibility.
One Phoenix client said she would not have been able to open-up and reveal the details about her childhood trauma in a face-to-face session, but found the online setting helped facilitate this and gave her the confidence to talk about her experiences of childhood trauma.
It is reassuring to know Phoenix clients are experiencing the sense of safety they need to feel to be able to undertake trauma treatment. Another client disclosed she would not be able to pay for the petrol to attend a face-to-face session and therefore greatly appreciated the flexibility offered by the Phoenix E-Services.
In my view the Covid Pandemic opened our eyes to new opportunities and ways to provide safety in the trauma informed work.
I appreciate my team, manager, organisation, and the Phoenix clients for working together collaboratively to ensure in difficult times that the work and the support could continue.
CLAUDIA DA SILVA SENIOR COUNSELLOR