Looking Back – Read more about the historical journey of Phoenix
In 1978' Women´s Health Care House and Australian Women Against Rape (Perth) organised a publicised 24 hour 'phone-in' service designed to give women who had been sexually assaulted an opportunity to speak about their experiences. Of the 150 calls, more than half related to intra-familial sexual abuse.  These calls about past abuse were unexpected and social worker Nancy Rehfeldt led a group of volunteers who formed self-help and support groups after identifying that most of the women callers had been silenced and not supported by their families and loved ones. Many callers were profoundly depressed and had a mental health diagnosis.
Individual counselling as well as group counselling commenced shortly thereafter, initially on a volunteer basis. Incest Survivors' Association Inc. (ISA) led by founder Nancy Rehfeldt, was formally incorporated in 1984, after obtaining a grant to provide services. ISA (now Phoenix) was the first non-government association to deal specifically with child sexual abuse and associated post-traumatic stress disorders later in life.
In 1986, ISA was offered partial funding by the State Government to provide professional services to the community, recognising that the thousands of annual phone calls identified a large' hidden' community problem. From this time onwards, all staff had to have tertiary qualifications and clinical supervision and the association had contractual accountability provisions to the State Government.
In 2015, ISA underwent the rebranding process so the new name of the organisation would reflect that the support provided was now offered more broadly, and beyond survivors of incest. The service was inclusive of all survivors of child sexual abuse and supported non-offending family members and significant others impacted by a disclosure, as well as advocating for those without a voice.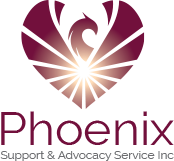 In 2016, ISA was rebirthed as Phoenix Support and Advocacy Service Inc. with a new logo. The new logo, as displayed here, represents a service that operates from the heart with compassion. The logo also shows the symbolic bird known as the 'Phoenix' that rises from the ashes. The rays of the rising sun are casting light and bringing hope for a bright new day and road ahead.
Phoenix operates as a non-government, non-for-profit charity and currently has a 'Preferred Provider Status' service agreement with the WA Government's Department for Communities.  Additional funds are raised from service fees' grants, and some donations.
Before we look forwards, it is important to highlight the immense contribution and leadership of our founder, Nancy Rehfeldt. Nancy's ground-breaking work led to changes to sexual assault laws, better services for abuse survivors and mandatory reporting of suspected child sexual abuse. Nancy stands as a leading light in bringing the prevalence of child sexual abuse and the need for critical support into the open. Read more about Nancy's extraordinary life's work here.