2015 Ancient Symbolism of the Magical Phoenix
The symbolism of the Phoenix, like the mystical bird itself, dies and is reborn across cultures and throughout time. Ancient legend paints a picture of a magical bird, radiant and shimmering, which lives for several hundred years before it dies by bursting into flames. It is then reborn from the ashes, to start a new, long life. So powerful is the symbolism that it is a motif and image that is still used commonly today in popular culture and folklore.  The legendary phoenix is a large, grand bird, much like an eagle or peacock. It is brilliantly coloured in reds, purples, and yellows, as it is associated with the rising sun and fire. Its eyes are blue and shine like sapphires. It builds its own funeral pyre or nest, and ignites it with a single clap of its wings. After death it rises gloriously from the ashes and flies away.
The phoenix symbolizes renewal and resurrection and represents many themes.
Tina Garnet writes in The Phoenix in Egyptian, Arab, & Greek Mythology of the long-lived bird, "When it feels its end approaching, it builds a nest with the finest aromatic woods, sets it on fire, and is consumed by the flames.  From the pile of ashes, a new Phoenix arises, young and powerful.  It then embalms the ashes of its predecessor in an egg of myrrh, and flies to the city of the Sun, Heliopolis, where it deposits the egg on the altar of the Sun God."
In Asia the phoenix reigns over all the birds, and is the symbol of the Chinese Empress and feminine grace, as well as the sun and the south. The Phoenix is also an alchemical symbol and has to do with the steps of alchemy in the making of the Great Work, or the Philosopher's Stone. Modern additions to the myth in popular culture say the tears of the phoenix have great healing powers, and if the phoenix is near one cannot tell a lie.
Continually morphing and re-morphing, the phoenix represents the idea that the end is only the beginning. Much like this powerful myth, the symbol of the phoenix will be reborn over and over again in human legend and imagination.
By Liz Leafloor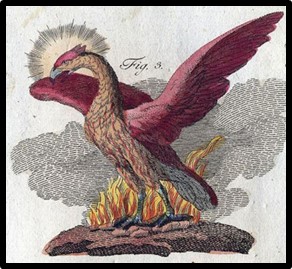 References:
Taken and adapted from:  http://www.ancient-origins.net (myths-legends/ancient-symbolism-magical-phoenix-002020)
Heaven Sent – American Museum of Natural History
Image: Phoenix rising from the ashes in Book of Mythological Creatures by Friedrich Johann Justin Bertuch (1747-1822)