Louise Lamont joins the National Strategy Advisory Group!
We are pleased to announce that Louise Lamont, Chief Executive Officer and Clinical Manager for Phoenix Support and Advocacy Service will be joining the National Strategy Advisory Group for the National Strategy to Prevent and Respond to Child Sexual Abuse 2021-2030.
Louise joins 20 other incredibly insightful and experienced individuals from across the country who are passionate about making Australia a safer place for all children and young people. Many of which are either victims and survivors, individuals with lived experience of child sexual abuse, or individuals who have cared for, supported, and advocated for victims and survivors of child sexual abuse.
View the full membership list here and find out more about the National Strategy Advisory Group here.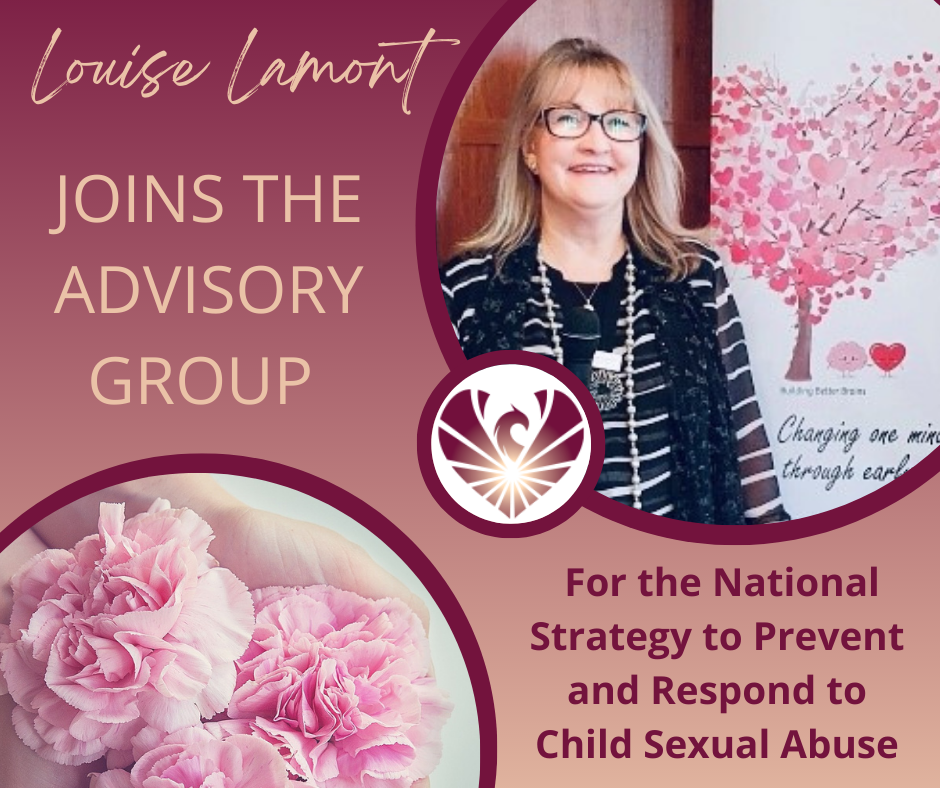 The National Strategy is a national framework targeted at preventing and responding to child sexual abuse in all settings, with safety as the key focus. With a high calibre of 128 applicants across Australia, the National Office for Child Safety chose Louise to join the group along with 20 others across various fields in the sector, including those with lived experience. All of whom were eager to support the work of the Office and the National Strategy and implement the rollout across the country.
Louise said she had reached a point in her long career in this field of work, and from her varied and rich life experience, where she felt she had many insights and learnings to share. When she submitted an expression of interest to join the group and later learned her application had been accepted, she said she was delighted and privileged to be able to join the group.
"This is not just a great opportunity for me to provide a representative voice for adult survivors of child sexual abuse, but to listen and learn from others shaping the policies that can protect at a preventative level," she explained.
"Having listened to the experiences of survivors often silenced and not believed, it is time their voices are heard and represented at the table of decision making. The development of the National Strategy is a unique opportunity to ensure a safer future is created for all children, which in turn creates safer communities by challenging and changing the factors that have contributed to victimisation."
"I've been fortunate in my career to have looked at the issues from a variety of perspectives, whether that be as clinician, policy developer, best practice author, trainer, psycho-education facilitator, community education advisor, or program designer. I am so grateful and humbled to be a part of this change process."
Congratulations, Louise on your appointment to the Advisory Group! Watch this space for more updates on how Phoenix, led by Louise Lamont, can guide your work in the sector, with a focus on child safety and protection.
Find out more about Phoenix and how we are different from other services.